Day's Overall Rally Leader - Sebastien Loeb
Monaco - Flag
First stage of first rally of the first season, especially for VW Motorsport and Sebasien Ogier, seals it with the debut stage win! 'Seb-the-Loeb', however takes it away in the SS 2 with over 10s and becomes the new leader.
And the questions about the media services for WRC, the now, new media partner being
Red Bull - Media House
[
http://www.laola1.tv
], has made quite a few interesting videos. Hope it gets better.!
Okay coming back to the rally, the first half of the day saw what 'WE' had expected, the fight between
Seb
's.
Ogier
took the maiden stage win for the debut competition stage for
VW Polo R WRC
, shaving off 3.7s to
Loeb
. Neat, eh?, but
Loeb
answered that in the SS2 by a clean 10.4s and showing who the senior is!
Volkswagen Polo R WRC - Latvala
Second half of the day, was the beginning of the real drama, although while
S.Loeb
maintained his lead throughout SS3 & SS4. It was the timing system that went haywire.
Sistemas Integrales de Telecomunicacion (SIT)
, is the new
timing & tracking system
provider who took over this season from
Stage 1 Tech
. Also, there was some lack of real-time information for the followers, who seemed to be in trouble for some reason or the other. It was the
Live-Text
that was missing in the parental site,
www.wrc.com
. But there were a hoard of tweeters who did the job, but it was questionable of the reliability of the official duty. Hope FIA / WRC will fix it soon!
SS3 results went real bad, & SS4 couldn't be believed, so was the overall ranking. Hope they fix-it for the for the last ever time. By the way, when was it last heard of timing system going bad, with Stage 1 Tech? No, we don't have a clue. Somebody aptly said, "Don't fix something, that ain't broken yet"!
Rankings after day 1, it is still not clear and not-final, because time problems Stage 3. But at the moment it looks like this.
Pos Time | Diff.Prev | Diff.Leader | Driver (competition no)
1:39:49.0 | +00:00.0 | +00:00.0 | S. LOEB (1)

1:41:09.3 | +01.20.3 | +01:20.3 |

S. OGIER (8)

1:41:35.7 | +00:26.4 | +01:46.7 |

M. HIRVONEN (2)

1:41:50.2 | +00:14.5 | +02:01.2 |

D. SORDO (10)
1:42:21.2 | +00:31.0 | +02:32.2 | J. LATVALA (7)
1:42:39.6 | +00:18.4 | +02:50.6 | E. NOVIKOV (5)

1:42:44.1 | +00:04.5 | +02:55.1 |

M. OSTBERG (4)
1:42:46.1 | +00:02.0 | +02:57.1 | B. BOUFFIER (22)

1:42:52.5 |

+00:06.4

|

+03:03.5 |

J. HANNINEN (6)

1:46:00.3 |

+03:07.8

|

+06:11.3 |

M. PROKOP (21)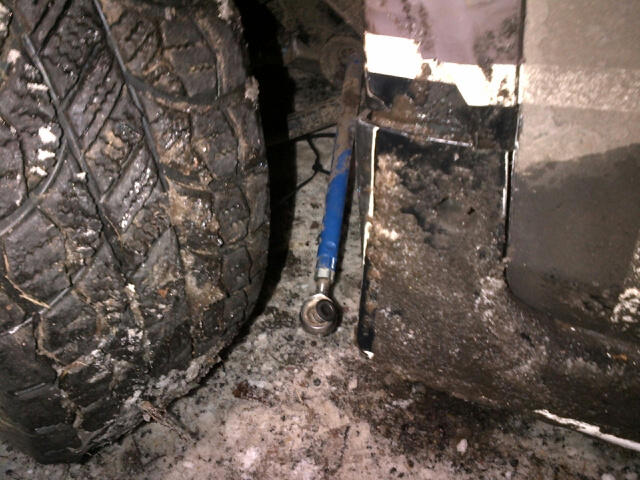 Neuville Fiesta's - Broken Tie-Rod
Thierry Neuville
was the first to be listed on the retirement list after damaging off his left front wheel of his
Qatar M-Sport Ford Fiesta WRC
.
The tracking system had also caused some issues on the first loop, when
Loeb
's car was falsely registered as having stopped on stage one and
Rally Officials
asked
Citroen Racing
to disconnect sensors in
Loeb
and
Dani Sordo
's cars. "For safety reasons and after consultation with the
FIA
technical delegate, the stewards permit to disconnect the boot and bonnet sensors of the
GPS
tracking system
in car #1 and car #10 as this item apparently blocks the sending of signals from the
GPS safety tracking system
in these cars," explained a
stewards
' statement.
Drama or issues, Day 1 ends of the season opening rally. See you guys tomorrow.